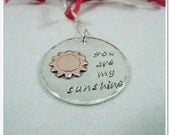 You Are My Sunshine Necklace is created with a thick 1" sterling silver disc that has been hand stamped using my lowercase handwritten font. A copper sun is soldered to the silver disc and the whole is oxidized and then sanded, tumbled and polished.
A name or initials may be stamped inside the copper sun using my small basic font.
Click Here to Visit My Etsy Shop!